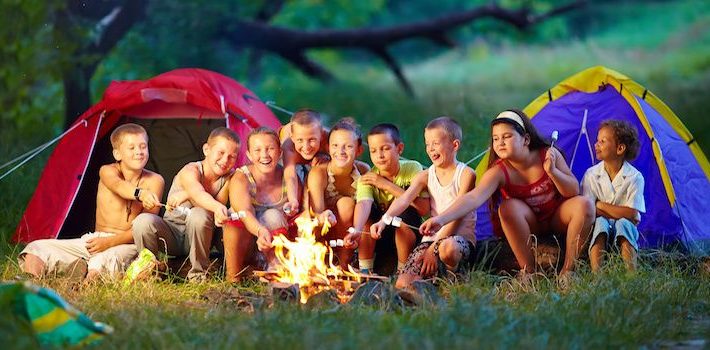 It's an annual rite of passage that puts smiles on the faces of both parents and children. It's called summer camp. From a bucolic wilderness surrounding a youth ranch to the bustling activity unfolding inside a recreational center, summer camps expand the horizons of kids by providing teaching tools that lead to the most important education moment of all: Discovery
For parents, summer camp brings a much need weeklong hiatus from rearing and developing young bodies and minds. Parents can simply sit outside and soak in the sweet sounds of silence or take a much needed vacation to a favorite destination. Since most summer camps are planned by camp managers and counselors, all parents seemingly have to do is pack up the car and head out of town.
Not so fast.
As one of the most important parts of planning a summer camp, ground transportation is often the difference between you maintaining a reasonable blood pressure and pulling your hair out, while you angrily scream at the sky. Don't worry about ground transportation for this year's summer camp and many more summer camps to come.
Leave your summer camp ground transportation worries to the highly rated professionals at ST Charters and Buses.
A Quick Look at ST Charters and Buses
At ST Charters and Buses, we live and breathe a motto called "solution driven mobility signature services." It appears to be a fancy motto, but what exactly does it mean? For every member of our experienced team of ground transportation experts, "solution driven mobility signature services" means devoting the time and financial resources required to guarantee every child that rides on one of our comfortable buses to summer camp remains safe the entire time.
We start by putting every driver through a comprehensive training program that features a steady diet of driver safety classes. After classroom training, our drivers are required to pass numerous tests to ensure they are ready for every possible driving scenario. When you choose a ground transportation company, you want to go with one like ST Charters and Buses that makes the all in commitment to promoting passenger safety.
Driver training is just the first step in making safety the number one priority at ST Charters and Buses. We own a large fleet of charter buses that include the most technologically advanced safety features. Think about all the standard and optional safety features you come across when you shop for a new car. Our buses come with similar features, but with more advanced vehicle monitoring and correction tools. Rear assist technology alerts our driver to the presence of oncoming traffic, while full coverage headlights project plenty of illumination to make night driving a breeze. ST Charters and Services is also dedicated to performing frequently scheduled routine charter bus inspections to make sure our buses far exceed the safety standard established by state and federal laws.
What You Can Expect from Us
We're sure you've heard the expression 'What have you done for me lately." For ST Charters and Buses, it's more like how do our customer service driven professional take care of every customer to his or her complete satisfaction. Solution driven mobility signature services first starts with recruiting team members that possess genuinely friendly and engaging personalities. The last thing your organization wants is to deal with an aloof customer service representative. Read our online reviews and you will see our customers keep coming back for more because of our unsurpassed customer service.
Here is what else you can expect from ST Charters and Buses:
Thoroughly trained drivers
Plush seats that offer supreme comfort
Abundant leg room
Entertainment amenities such as Wi-Fi and video games
Strong commitment to providing safe ground transportation
Highly regarded customer service reps
Learn more about why youth groups and school administrators turn to St Charters and Buses to meet ground transportation needs by calling us at 979-587-7547 or by submitting the easy to complete online form located on our website.
ST Charters and Buses for Summer Camps
When your organization rents a charter bus for summer camp, you receive an affordable solution for your group transportation criteria. Charter buses cost less person to rent than driving several vehicles because the cost for fuel and maintenance expenses is spread out over many more children.
Here are some other reasons to go with ST Charters and Buses for summer camp ground transportation:
Precise Scheduling
Have you ever sent your kids off to summer camps in a standard vehicle? If you answered yes, then you know about the logistical nightmare of organizing dozens of cars to leave and arrive at the same time. In fact, you run the risk of losing track of a car or two full of children along the route. Confusion arises when a driver takes a different route than the route agreed upon by summer camp organizers. The solution to ground transportation issues that arise by using multiple cars is to rent a bus. One charter bus departs on time and it arrives at the summer camp on time.
Safety First
Outside of taking a driver's test when you turned 16, when was the last time you received extensive driver training? The answer is most likely never, which makes St Charters and Buses the logical choice for summer camp ground transportation. Our safety rating is second to none in the group transportation industry. Why place the safety of your kids in the hands of careless and inattentive drivers. Moreover, when you contract with ST Charters and Buses, you will rest assured every one of our buses has undergone a meticulous safety inspection.
Remove All Driving Stressors
Trying to get out of greater Houston can tax the nerves of the stoutest person. Constant traffic jams caused by a wide variety of reasons can turn a 90-minute drive to summer camp into a half-day ordeal. Why put up with standing in traffic, when a professionally trained driver knows exactly how to deal with the situation. By renting a charter bus from St Charters and Buses, you say goodbye to rude drivers, as well as drivers that haven't gotten the message that it is unsafe to text and drive.
Going Green
As we mentioned, charter buses consume less fuel per passenger, which means renting a bus from ST Charters and Buses represents an excellent way to help the environment. A charter bus that carries near the maximum number of passengers allowed can get up to five time the fuel economy generated by a fleet of two-door and four-door cars.
ST Charters and Buses offer customers the ultimate in convenience. We travel to summer camps located throughout the Lone Star State, as well as to neighboring states like Louisiana and Oklahoma.
School Buses Don't Make the Comfort Cut
The temptation to save money by renting a standard school bus can come back to bite you. Summer camp drives can take several hours and the last thing you want is a bunch of restless kids causing trouble in the aisle or roughhousing it up at the back of the bus. Let's say your organization's summer camp bus comes across a bottleneck on the freeway. Do you want the children to have nothing to do, while they sit in uncomfortable seats? St Charters and Buses take the boredom out of bus rides by offering kids a large number of entertainment options. We deliver supreme comfort by putting children in super soft, reclining seats that can turn restless children into peaceful kids enjoying much deserved naps.
Storage Space for Everything
Ranging from a weeklong scouting excursion to days of educational lessons, summer camp requires the packing of a significant number of personal possessions. Kids need clothing, toiletries, and electronic devices that keep them pleasantly occupied for between five and seven days. This means your group will need plenty of room to store multiple pieces of luggage brought along by dozens of children. The last thing you want as a summer camp organizer is to lose sleep because of the lack of charter bus storage space. At ST Charters and Buses, we provide more than enough storage space to accommodate both small and large groups. We match the size of your group and the length of the summer camp to a charter bus that easily stores and organizes personal possessions.
Let Us Handle the Trip Itinerary
Planning a summer camp requires the expertise of professionals that have "been there, done that." When you work with St Charters and Buses, you work with a team of ground transportation professionals that have accumulated decades of summer camp planning experience. Our logistics team knows which routes to take at different times during the day. We understand where every potential traffic bottleneck is located, as well as know in real time where Houston traffic has gotten out of hand.
In addition to route planning, here are some other professional services offered by ST Charters and Buses:
Trip Consultation
Friendly and knowledgeable dispatchers
DOT licensed drivers
One contact for every facet of summer camp planning
Responsive customer service agents
Insurance coverage that covers every scenario
We offer summer camp planning services 24 hours per day and for seven days a week to ensure the next summer camp outing planned for your group goes off without even the slightest hitch. Call us today at 979-587-7547 to learn why ST Charters and Buses is the best option for ground transportation to summer camps.