Safety Features And Amenities In The ST Charters & Buses Fleet
Our new motor coaches are designed for comfort and engineered for safety. Every vehicle is outfitted with state-of-the-art safety technology and every day our team of certified professionals works to ensure that all of our units are kept in optimal condition.

The safety features equipped on our entire fleet include:
Dynamic Stability Control, a computerized technology that improves the vehicle's capability to detect and reduce loss of traction. In case of such an incident, the braking is automatically applied to each individual wheel and the engine power is reduced until the driver regains full control of the unit.
Follow Distance Alert System, that warns our trained drivers about other vehicles or objects in their path, allowing them to react faster and avoid risk of collision;
Speed Control Governors in all our units, limiting the speed they can reach to very safe –but not slow!– levels.
Tire Pressure Monitoring and Fire Detection and Suppression Systems, among others.
We take all possible precautions to avoid hazards on the road. However, if an accident should occur, our reliable Impact Alert System gives our staff real time warnings and notifications, allowing for instant verification with the driver involved and, if necessary, the possibility to alert emergency services on the spot.
Additionally, Driver Electronic Log Devices and the installed Drive Cam Safety System allow our crew to monitor in-vehicle footage driving events through a web-based service. By capturing audio and video, our units provide an accurate and objective account of a trip's events, which can later contribute to our drivers' safety training, and ultimately enhances the safe driving practices and programs in our company culture.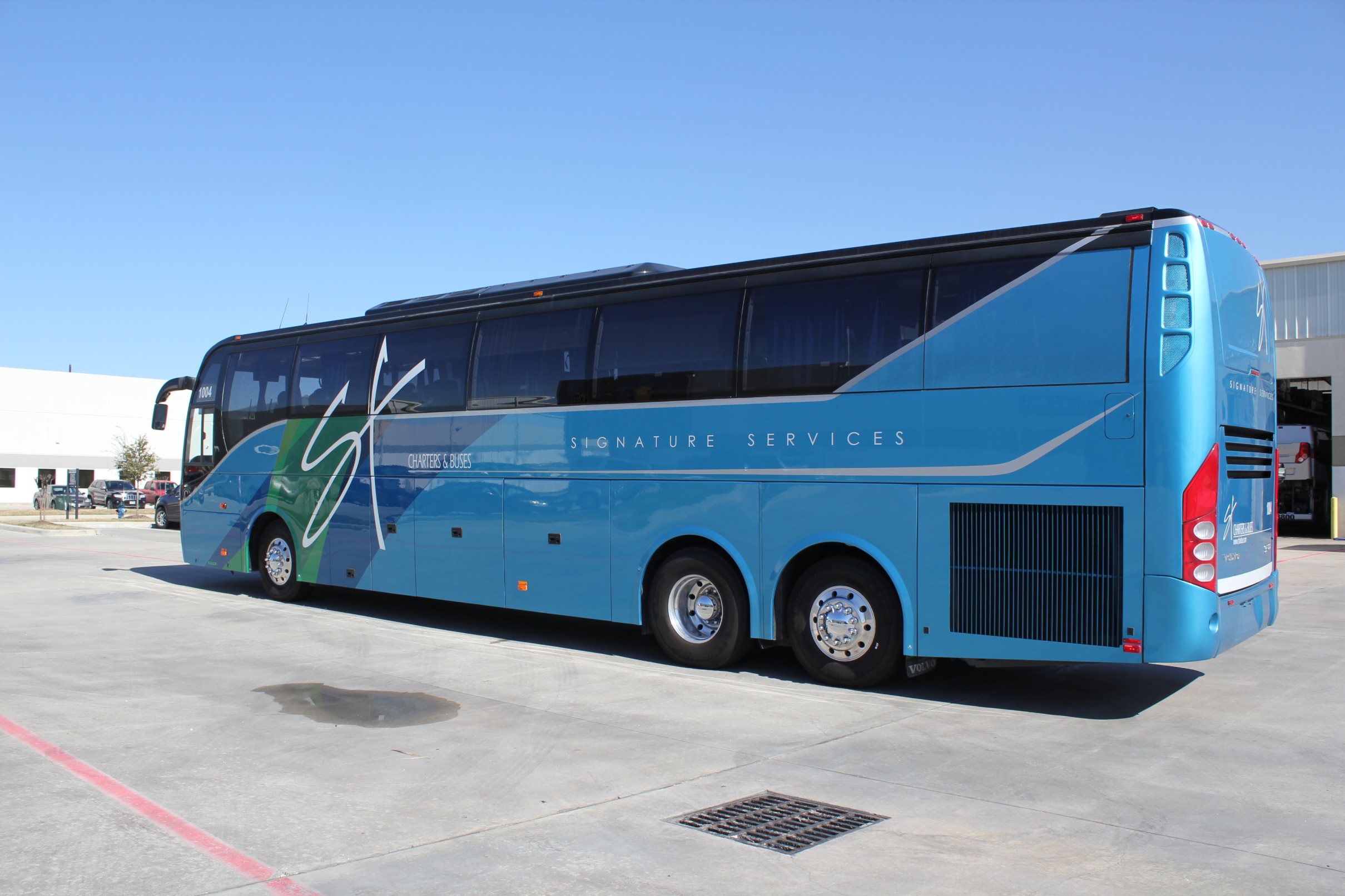 WHY CHOOSE ST CHARTER & BUSES?
Nonetheless, as we mentioned earlier, our fleet is also designed for your comfort. Our chartered buses offer seating for up to 56 passengers, which means each and every one of our guests can enjoy spacious, reclining seats, without the infamous middle seat to cramp their space. The seats include three-point seatbelts for safety as well. We at ST Charters & Buses are all about your satisfaction: each seat is complemented with 110V electrical and USB outlets, individual lighting, and air control. Our units are equipped with climate control, of course, but we let our guests decide if they want that little extra cool.
But that's not all. Because we want our clients to arrive not only safe and on time to their destination, but also in a relaxed and calm state of mind, we've made sure to install in every one of our vehicles multiple Large Flat Screen TVs with DVD players and other media connections, in case they wish to watch a movie or two on the road. You may also make us of our Public Address System to share valuable information about the trip or destination.
There is always Wi-Fi available upon request, so you can showcase on social media what a great trip you're having! And maybe share a pic or two of the beautiful scenery you can appreciate from our panoramic windows.
Last but not least, all of our buses have built-in restrooms, step stools, and extensive storage in the under coach luggage bay and the overhead storage bay.
BOOKING YOUR MOTOR COACH RENTAL
We hope this brief summary of our Safety Features and Amenities has cleared any doubts you may have had over our Safety and Comfort Guidelines. However, if you have any further question, don't worry; our crew at ST Charters & Buses will be delighted to talk to you about all the details –and listen to any comments–. Remember we're here for you!